After a good adventure around the island of Tahiti i was just dying to get out to the island of Moorea. Mo'orea is claimed to be the most beautiful island in the world by many due to its beautiful protected lagoon and lush mountainous landscapes.
I could see it from where Karaka was anchored at marina Tahina when we first arrived and just couldn't wait to get over to check it out! So after my hitch-hike adventure, on the 18th of September I had two sea kayaks packed and ready to go. Ideally I wanted to paddled the 10nm across in the open sea but i really wanted to find another person to paddle with but was not possible. This crossing is with the trade winds and current but is still big open water and conditions can change extremely fast with squalls coming in out of nowhere regularly with wind speeds of 40kts!
So if i was to do the crossing it was vital to have someone else competent to come with me. This was my biggest problem, which seems to be an ongoing issue, and that is finding people (anyone!) to paddle with me. The local polynesians like their pirogues (outrigger canoes) which are fast but unstable. Traditionally polynesian would paddle between the islands in the Society Archipelago, especially Tahiti and Moorea but now a days not as many are up for it.  So with no luck in finding someone else I went around asking boats like crazy if they or anyone they knew was moving on westward from French Polynesia and could take me with them, or even just over to Moorea, or if they knew anyone interested in buying my sea kayaks… Lots of stress going on in my mind over this. Eventually I found a boat that would take me and one fully loaded kayak (the necky) to Moorea. It was an Italian Swan 65′ named Kenta, a beautiful boat run by an Italian couple and a younger Italian girl and guy from France. As for my other kayak there was another boat going to Moorea who was full of people including the Galapagos boys we partied with for Tom's birthday. I was able to leave the yellow delta kayak with them to bring over for me as Steve was maybe going to join me or I would just find someone else to paddle around with. This other boat, Corina IV, were going to some surf spots and eventually heading to legendary Opunohu Bay where i was heading with Kenta.
So on the morning of September 20th I careful loaded my necky kayak onto the delicate teak-wood deck of this beautiful Swan and we were off!

We had a windy rainy crossing with Kenta moving at 9+ knots! alot faster than i was used to on Karaka.


We arrived in Opunohu Bay and it was beautiful! just like the postcards except overcast and rainy…

I set up my tent at the beach outside where all the yachts were in the rain

The following morning it was a lot nicer so i packed up all my things and with no plan whatsoever i took off paddling around enjoying the views of the bay.


Kenta in Opunohu Bay, Moorea

I went for a paddle down to a popular kite surfing beach as the wind was picking up there were a lot of kiters out but then the wind died and everyone packed it in. I met a british guy who was traveling on another Swan and might be looking for crew for passage to Australia but were not leaving until the end of October, 2 weeks after my 3 month visa for French Polynesia was going to expire… I soon saw Corina IV come around the corner and pull into Opunohu Bay so i paddled back to touch base with them. These guys were awesome, a young crew of 6 from St Marten in the Carribean. They made a 3 year lease deal with the owner of this 50ft Beneteau to sail around the world. They had a lot of sponsorship with a big marine company called "Budget Marine". Check there website for more information here
I camped on the same beach here and went and dove with the stingrays and sharks, scurfed with their dingy and surf board and had a big party with them and the Galapagos folks before they left for Bora Bora the next day.


See link below for an article the crew published on their time in French Polynesia:
Article Tahiti


This was a very beautiful morning I actually saw a pod of 30-40 dolfins swim by my kayak, got some video but no photos and organizing my video is a whole other story so you will just have to imagine how magical it was to experience these dolphins swim past me with this amazing scenery!


The view behind my basecamp


I met this nice guy, Jean-Luc while hitch hiking who let me do some kayak repairs in his yard while he was repairing his pirogue. We went out for a nice paddle before parting ways


I was now on route to Nelson Camping, a camping/hostel in hopes to find someone else to paddle with me around the island.


Made it by sunset – beautiful!


I knew there was a storm brewing so i stayed in a dorm room. I met Erik a 19yr old dude from Uruguay who joined me in the other kayak for some further exploration of some of the motus around Moorea.


Motu hoppin'


beers!


Marie whom i met in Tahiti lived on Moorea for a while and told me i should go visit Yves on Motu Ferone. It is a magical place that i came back to on several ocassions.


This was an amazing day heading through the motus and snorkelling with the stingrays and sharks early in the morning.


It was challenging paddling to avoid the coral heads as they sit so shallow in the water. They can really do some damage to the kayaks so we must carefully pry ourselves off when stuck


Paradise!


The ultimate french polynesian sandwich! fresh baquette, brie and tomato! everyday breakfast lunch and dinner! Great energy for paddling in the tropical heat!


We paddled a ways down to the pass Taota to check out the surf and open ocean


Stunning colours!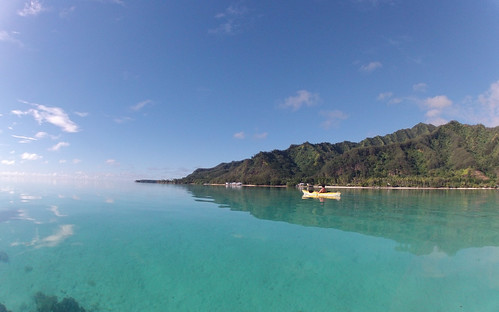 Back to Yves on Motu Farone!


I parted ways with Erik and went to Cook Bay to meet Steve


We chilled in a bungalo over the water and caught up on our adventures over a hinano.


Morning in Cook Bay


Steve found this boat to crew on further into the pacific


Paddling on my own again with my kayaks around the lagoon


Back to Motu Farone with Yves, Marie and other local families


Kermit enjoying the Motu Life!


Steve and Elena came out to join us too!


Yves is starting the construction of "Waka Moorea" a traditional Polynesian sailing vessel slated to be ready in 3 years to travel the polynesian triangle traditionally from Tahiti to New Zealand, Hawaii to Rapa Nui (Easter Island) An excellent project that I hope to revist to help finish building and maybe sail on in the future!


The good life!


I decided to join Marie and hitch hike around so she could say bye to some of her friends. I met some great local people who lived in some really neat homes


Some of the locals like to ride these behind cars around the island


One of the local dudes i chilled with in the village of Papeto'ai where Marie lived


Some of Marie's local family! Such amazing people


Up early at Motu Farone to paddle out and take ferry back to Tahiti to help Tom move Karaka over to Moorea. A glorious paddle!


Calm crossing with Karaka – 3 humpbacks playing in the distance


Canoe race!


Cook Bay with Tom


Opunohu Bay


Karaka in Cook Bay


So while I was hitch-hiking around Moorea with Marie, she mentioned that they knew two kayakers who might be interested in buying my sea kayaks. Patrice and Isa Duval are amazing paddlers! They have been living on Moorea for not more than a year. Originally from France they lived in Reunion Island in the Indian Ocean and did many many kayak expeditions around the world in their feathercraft kayaks. Click here for more info and some spectacular videos of paddling around the world. So they were indeed interested in the kayaks and we agreed on a price for them to buy them off of me. Patrice was interested in the kayaks because he is starting a kayak company known as 'Kayak Nomad Polynesia' and will be commencing his first kayak tours April 2014. Click here for link to the Kayak Nomad Polynesia website. We have kept in touch with keen interest to paddle together in the future!

Karaka in Ha'apiti


Last night on Karaka…

I ended up leaving and went to Tahiti trying very hard to extend my visa so i could sail with a French father and son a big catamaran named Alcyone

There was no luck unfortunately so i had to hop on a plane to New Zealand and my friend Polynesian adventures suddenly came to an end on the 14th of October, 2013…

I have some more pics not shown here
click any photo to see rest of album